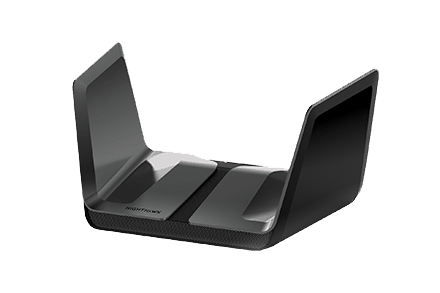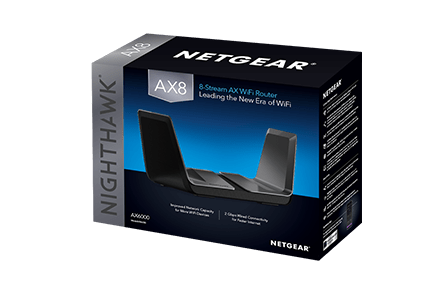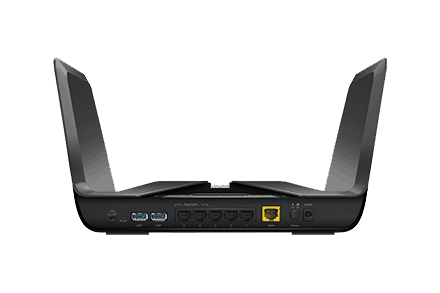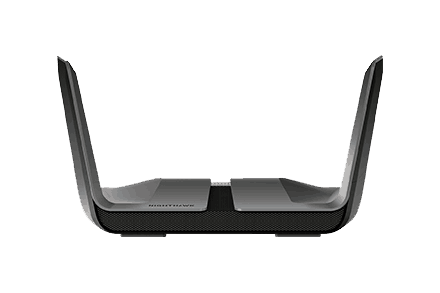 This really isn't the blog I was expecting to be writing when I ordered this WiFi6 router online, but I'm quite pleased with the way things have turned out as I've solved my DHCP problem in the previous blog pretty cheaply!
I'd assumed the DHCP problem was being caused by the device responsible for DHCP, so after much research online eventually ordered this Netgear router from Amazon. I'd decided I needed to future proof things with a WiFi6 router (even though I don't have any 802.11ax clients yet) but didn't want to spend too much. The RAX80 seemed to tick all the boxes, with the added bonus that it looked like something out of Star Wars, and I even managed to find an Amazon Warehouse one for just over £200, so almost 50% off the RRP. This may have been my first mistake, but I might never know.
It arrived the next day but had to wait until this morning to unbox and setup. A little bigger than I expected and pretty noise when first switched on, but it certainly looks striking. Everything settled down pretty quickly and it seemed to have all the options I needed in the web user interface, although not so much in the App. It lacked the polish of the Apple config but was equal if not better than the Virgin setup. I'd got it pretty much configured for the LAN, some ports forwarded for my external services (which needed a new IP assigning to the A record at my hosting Cpanel) and connected to WiFi from my phone within a couple of hours.
The problems started when trying to connect another couple of wireless devices, my Amazon Alexa and IKEA speaker. After a couple of hours, I'd pretty much given up on them and focused on the DHCP problem, which should really have been my first task really. Turns out neither of the 2 devices I was struggling with the AirPort wouldn't get an IP address from the RAX80.
This led me to think the problem might be related to another area of my network, specifically, the Netgear 8-port unmanaged switch (GS308) that sits on my TV stand and connects all of the home media devices with another switch in my office. I had a spare 5-port switch (FS105) in the garage, so connected this up with just the two devices and still no IP addresses.
Maybe my problem was the 8-port managed switch (GS108Tv2) in my office, so leaving the FS105 in situ, I moved the GS308 into the office, and voila – IP address for both the Virgin TiVo and HDHomerun boxes! I spent a little more time trying to get the WiFi working on the Netgear Nighthawk, but it really shouldn't have been that difficult to connect a couple of WiFi devices, and I started to think that maybe that's why it had already been returned and become an Amazon Warehouse deal
It took less than an hour to move everything back to the AirPort, and DHCP continued to serve IP addresses as it should. I've ordered another 8-port unmanaged switch (GS308), but after resetting the GS108Tv2 and setting that behind the TV, it's been playing nicely and everything is working as it should.
The Nighthawk spaceship is back in its box and a return already started with Amazon. I wasn't really looking to buy a new router and would prefer to give WiFi6 a little time to mature and to have a slightly wider choice and somewhat cheaper devices in a year or two. Maybe I'll even have some clients that could benefit from it by then! At the minute, I'd prefer to use the money saved toward the FreeNAS replacement project.
It did help me diagnose the issue though, so I won't completely discount it when it is time for a WiFI6 upgrade. Don't let my experience put you off, as it could well be a faulty device given it had already been returned. That, or it really is a case of looking better than it performs!