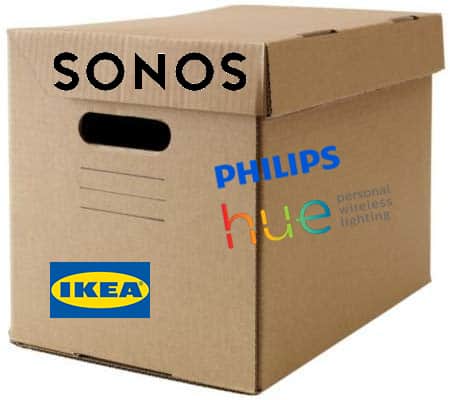 It's funny, as in the last few months I've just got rid of the last of our Ikea furniture – a large king-size bed with matching bedside tables and a chest of draws in the spare bedroom. It started life as our bed in 2005 but was relegated to spare room duty in about 2010. We've just decorated upstairs and replaced our bedroom furniture, so that's now in the spare room and the Ikea set is no more. What on earth has that got to do with an Ikea Smart Home, Sonos or Philips Hue though?
Nothing really, other than setting the scene that at some point I had quite a lot of Ikea furniture, and now I have very little! We used to live quite close to Ikea in Leeds, and while there is one in Edinburgh and Glasgow, we really don't visit very often anymore.
I do have some Philips Hue lighting, which I blogged about a little here and while I don't have any Sonos equipment, it's something I've looked at with interest but just never got around to trying it out.
Anyway, my Ikea box arrived a few weeks ago (yes, it's taken a little while to finish this), looking not too dissimilar to the picture above! Inside the big box were a number of smaller ones:
4 x TRÅDFRI N1 GU10 smart bulbs
1 x TRÅDFRI gateway
1 x SYMFONISK WiFi bookshelf speaker
You have to love the way IKEA name their products. Crazy Swedes!
I started with the 4 x TRÅDFRI smart bulbs, which I was hoping would connect to my Philips Hue Hub without needing the TRÅDFRI gateway. Simply plugging into a socket and searching for the blubs in the Hue app didn't work, but I'd read online that they might need resetting and they might also need to be very close to the Hub.
Not quite as straight forward as that sounds as the Philips Hue hub is hidden behind my TV and wired into a switch and the closest GU10 outlet is attached to the wall, albeit in the same room but about 15 feet apart. A long CAT6 cable came to the rescue though, and within about 30 minutes I had all 4 bulbs attached to my Hue hub. Result!
The key is the 'reset' which is done by connecting the bulbs and then switching on and off 6 times. They flash briefly, and if you try and connect them to the Hue hub straight away, with the hub right next to the blub, they are added right away.
While I have full control of the bulbs in the Hue app, and also voice control via Alexa, they don't show up in the Apple Home app, so I might actually need the TRÅDFRI gateway at some point in the future.
Next to the SYMFONISK Sonos speaker. Since getting Alexa in the Dining Room, we do spend more time listening to music, so I liked the idea of getting some Sonos speakers that could play music in any room. I've set this one up in the Lounge, which is next to the Dining Room and open plan, so probably not in the best of locations.
It sounds pretty good though, although I was getting some connectivity issues which could well be down to the number of wireless devices connecting to my router. I've probably got about 60-70 IP addresses, of which 20-30 are connecting wirelessly, and I've started to notice some intermittent issues with some of them.
One of the things on my to-do list is to upgrade my networking gear, as I'm pretty much using an Apple AirPort Extreme to do all my routing, and a couple of switches for hardwiring all my computer and home entertainment gear. Everything else connects wirelessly. I've been waiting for WiFi 6 and think I'll dip my toe in the Ubiquiti pond, but they're being a little slow with the consumer gear, so maybe next year.
Anyway, this has turned into something much longer than I planned. I'll probably pick up another couple of SYMFONISK speakers on my next Ikea visit, and maybe bulbs for the rest of downstairs. I'll let you know…