I feel as though I've been here before when I looked to resolve a problem I was having after updating my FreeNAS server. I blogged about it here and ended up trying a new Netgear router. This time it was a Linksys router as a possible AirPort Extreme Replacement, although again things didn't quite work out as planned!
Since the COVID-19 lockdown and after almost 6 months working from home, my Wi-Fi network feels like it's creaking at the seams! I've been using an Apple AirPort network for well over 10 years, the latest 802.11ac (or WiFi 5) one since 2013. More recently it's been hardwired to an even older AirPort Express to extend the Wi-Fi network.
About 12 months ago I was having similar issues, where some wireless clients would drop off the network and then reconnect. I eventually put this down to the AirPort Extreme having an unpublished limit on the number of devices that could connect at one time, and a suggestion I found was to extend the wireless network with another AirPort device.
I had an AirPort Express in the house and for a while, this seemed to have worked, but with both of us working from home, and even more wireless devices connecting to the network the issue has started again. This is more problematic when the devices dropping off happen to be doing a Skype of Teams call!
The last time I looked at an AirPort Extreme replacement I'd been hugely disappointed by Netgear, so they were out of the question. I've also just replaced my laptop (I blogged about that here) and that doesn't have WiFi 6 so I decided to look at more reasonably priced Wi-Fi 5 mesh options.
Apple sells the Linksys Velop products in their stores, so that seemed like a pretty good recommendation given they're no longer in the router market. I ended up finding a 3 node tri-band model available as an Amazon Warehouse deal for less than 50% of the RRP, and about 1/3 cheaper than I could find elsewhere online so broke my self-imposed ban on Amazon shopping for September!
When they arrived the next day I was immediately disappointed by the Amazon Warehouse description of 'like new'. Given they are 3 identical nodes, the yellow stained colour of one node stood out like a sore thumb!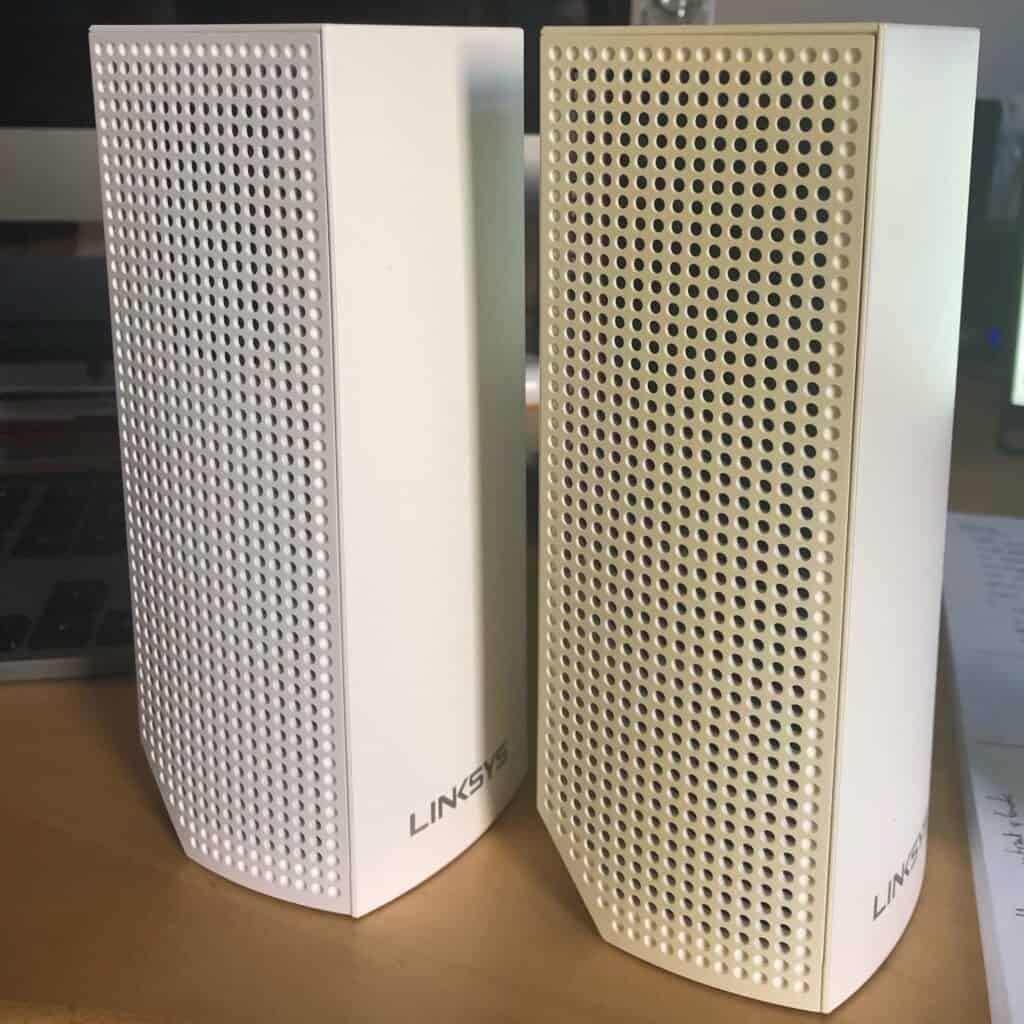 Putting that to one side, for the time being, I thought I'd try and set one up as I could always contact Amazon and arrange for a replacement.
Well, trying to get just one working in the same way as my AirPort Extreme proved impossible, and after several wasted hours, and a number of calls to Linksys Technical Support, they were returned to the box. I contact Amazon due to the falsely advertised claim (I would usually have just done a return online) and was offered a further discount to keep them.
That made me spend another few hours trying to get them to work, but no matter what I couldn't get around one specific issue. This might be as much a problem with my network and services, but given it works with the AirPort Extreme, I don't want to start changing things for another router.
Without getting into much detail, I have various externally available services running in a combination of virtual machines and jails on my FreeNAS server. These include Nextcloud, Bitwarden, emby and others which are all configured as subdomains on my own domains with A records forwarding to my WAN IP address on my hosting partners cPanel. I then have an NGINX Reverse Proxy server managing the SSL authentication and re-routing services from the standard HTTP(S) ports to the internal service IPs.
The Linksys will not route to these where the starting point is a device on my network. All of the necessary ports were opened and forwarded to access them externally (and work perfectly when tested using 4G on my iPhone) but for any clients connected to my LAN these services were just unavailable. You might ask why I'm routing out of my LAN to come back in via the WAN, but it keeps things easy for devices moving in and out of the network, and also avoids the need for VLANs to manage guest access, which is just done on the AirPort.
Anyway, that's probably a blog for another time. All that needs to be said really is that the Linksys Velop won't do this, so it's going back. This still leaves me with a problem, or at least did until I did some further research over the weekend.
I'd actually been thinking of replacing the AirPort Express (which was only a Wi-Fi 4 model) with a newer one to see if this helped, and it was that thinking that led me to the idea of an AirPort Extreme 'Mesh' like network. 2nd hand AirPort Extremes were selling on eBay for not much more than a used Express AC model, so it seemed to make perfect sense to replace the Express with the second Extreme, right?
And that's what I've done! The old Express was connected to the Extreme in my office with a CAT6 cable under the house. I've disconnected that and put the 2nd Extreme in its place, and so far so good. It's early days, but it took less than 30 minutes to set-up, everything still works exactly as it did, and I should have more capacity for wireless clients with 2 AirPort Extremes.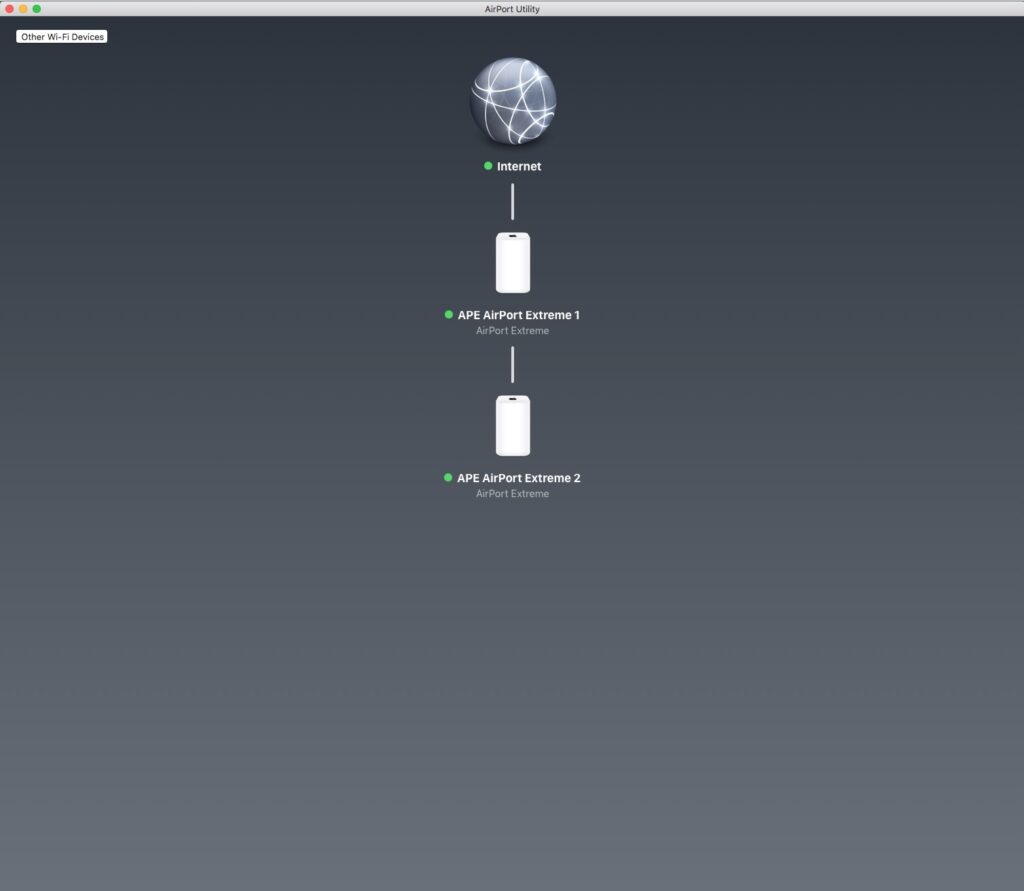 Who would have guessed that my AirPort Extreme Replacement would turn out to be another AirPort Extreme 😁