I was chatting with my Mum a few months ago about cars, and it got me thinking about all the cars I've had a driving relationship with. I say that, as it doesn't include other people's cars or ones I've hired but ones that I've spent at least a number of months driving since passing my test in 1991. Quite a few have been company cars, although more recently they've been cars I've bought and pretty much driven until they died! Most of the earlier pictures are just ones found on the internet, but the later ones are the actual cars.
So let's take a drive down memory lane….
My very first car, kindly bought by my Dad during the summer of 1992 after I'd got back from a year in America at Millersville University, PA. It was possibly the most underpowered car ever produced with a feeble 950cc engine that with a full load struggled with any kind of incline. I had lots of memorable trips in it though. I remember picking up my Mum and step-dad from a holiday at Manchester Airport and taking them back to Yorkshire. 2nd gear was required going over the top of the M62! And coming back the other way from Hull to North Wales with 3 friends in the car, struggling for power, but also with a broken windscreen wiper and pouring rain, with my co-pilot hanging out of the window trying clear the screen. And a trip to Alton Towers (with probably the same 3 friends) where we were overtaken by a bus! Oh, happy days.
My first company car, and what an upgrade from the Fiesta! It was the same colour as the picture, but was a sportier looking 3 door model with a small spoiler on the boot! It wasn't new when I picked it up, but I put about 50,000 miles on it in less than 12 months and had a blast in it. As a 22 year old straight out of University, it was a great car to be driving and probably spent more time exceeding the speed limit than under it. Working for Unipart, it was one of the many Rover's I'd have as company cars for the next 8 years…
This was the first new car I'd had, with just 9 delivery miles on the clock. And I even got to pick the fantastic Kingfisher Blue paint! It was the new shape Rover 200, again with 3 doors, and whilst it was a nice car to drive, it never felt quite as much fun as the older one it replaced. It was also the car where I had my first really big accident driving down to Oxford early one morning at being at the end of a 6-7 car pile-up on the M1. It finished that journey on the back of a flat loader and spent the next 3 months in a Bodyshop being repaired (during which time I had the next car). I did eventually get this one back, although didn't keep it very long as I changed roles at Unipart and got a new car, but it was never quite the same and I was happy to see it go in the end.
I only had this for about 3 months, but never really liked. It was bigger than the 200's I'd had, but with the same 1.4 engine felt pretty sluggish. It was also a base 'i' model, so lacked some of the 90's refinements. It was almost new though, and the one drive I do remember is the one back from Oxford after crashing the 214. I think I sat between 50-60 all the way from Oxford to Leeds (on the M40, M42 and M1) which took almost as long as the journey down on a flat loader!
Unipart usually allowed you to order a new company car when it had done 75,000 miles, although when you changed grades and roles at the same time, you got to order a new one straight away. Quite a few people moved into a new role at the same time as I did, and most went for a Rover 618i, but I went for a more powerful and better spec. Rover 420 GSi saloon. It was a great car, and I loved the 80,000 miles we spent together, although because of the job this was less than 2 years! I did a lot of driving during my first 4 years at Unipart!!
My next role at Unipart took me down to the Head Office in Oxford and the grade I'd moved up to also added some Landrover's into the mix, so when I got to order my next car picked a 3-door Freelander 1.8 with a removable soft-top roof. It wasn't quite as underpowered as the Fiesta, but nobody could describe it as quick, and it was very agricultural! It kind of fit in at the time though, as I was living on a farm, and wasn't racking up quite as many miles. Getting the roof on and off was a right pain in the arse though, and I remember one outing trying to get it back on during a torrential downpour. Not fun! The good thing was they had to be back with Landrover before they were a year old, so you got to reorder another one after just 9 months!
By the time I got to reorder, I'd moved up another grade, so got to order the more powerful 2.5 V6 model, although it only came as an automatic. I think this put me off automatics, as it was so slow to change, but it had much more grunt than the 1.8 I'd swapped it for. I took this one off-road a few times, and almost everytime got it stuck! Once at the bottom of Ireland on a pebbly beach and another time on the farm, both of which I needed pulling out by a tractor! It was more fun than it's blue predecessor, but only just.
My last company car, and by this time Unipart's relationship with Rover was no more so the choices moved to mainly Ford and Volvo. I went for a Volvo S60 2.0T which was a fantastic car, and a real joy to drive after the Rover's and Landrover's. I probably only did about 30,000 miles in it before leaving Unipart, but they were eaten up in great comfort. Although I had the option to buy it when I left, I had my heart set on something quite different, but promised myself I'd buy another Volvo at some point in my life…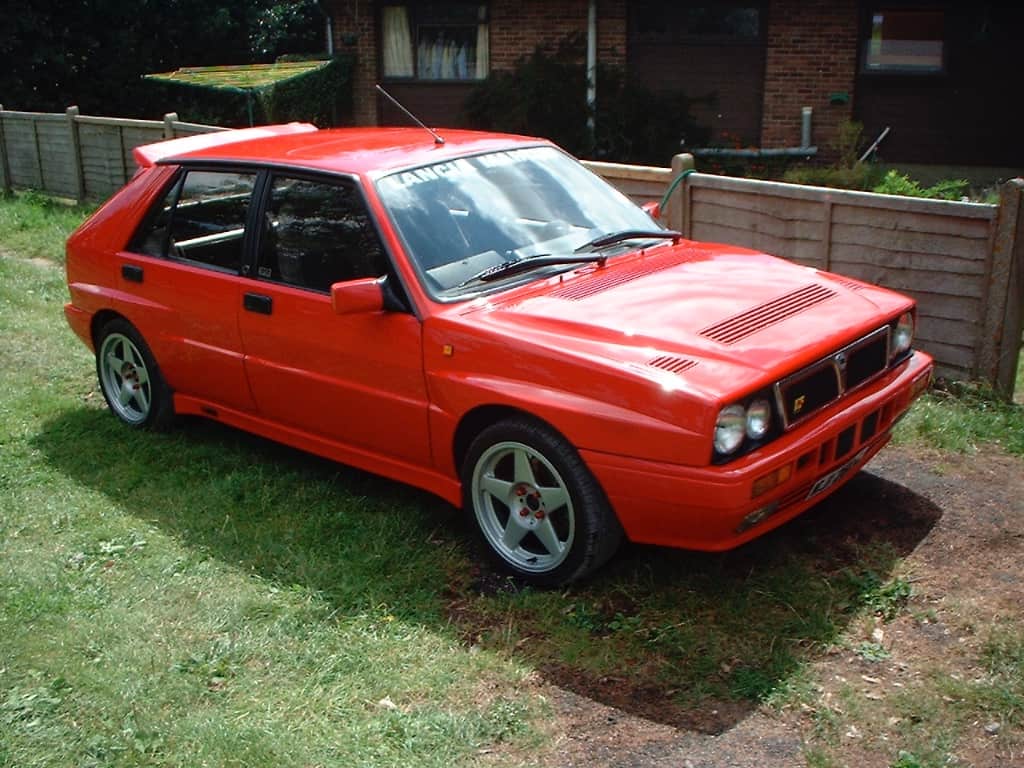 When I left Unipart and the blanket of a company car scheme, I finally got the chance to buy the car I really wanted. From the late 80's and seeing this car at the finishing stage of the RAC Rally in Chester, I'd dreamt of owning one. The car didn't actually cost that much to buy, but for the next 3 years cost a small fortune to keep running, leaving me with a somewhat love-hate relationship with it. I used it daily, or at least on the days it wasn't in a garage! For a few weeks when I got her back, it was undoubtedly the best car I've ever driven. A genuine pocket rocket, that with its 4 wheel drive felt like it was on rails. Down a twisty road, there can't be many cars even today that would get you there much faster, or with a bigger grin on your face. But at less than an average 20mpg and a nearly monthly repair bill, my 8v Integrale eventually had to go. I still miss it, and maybe someday….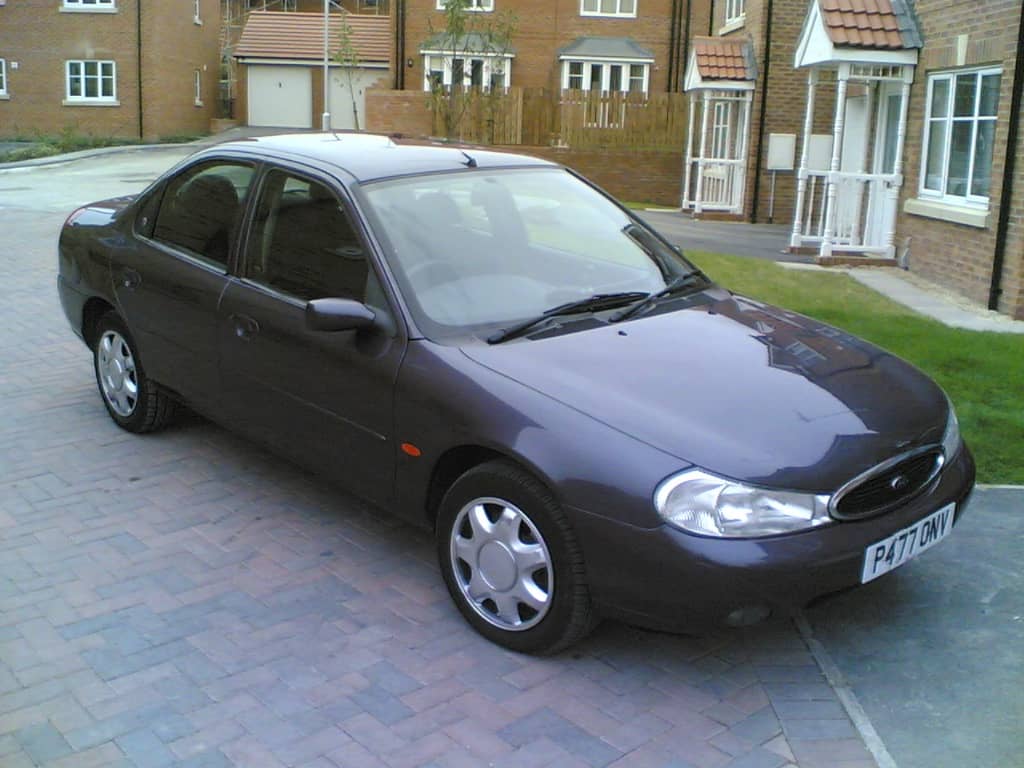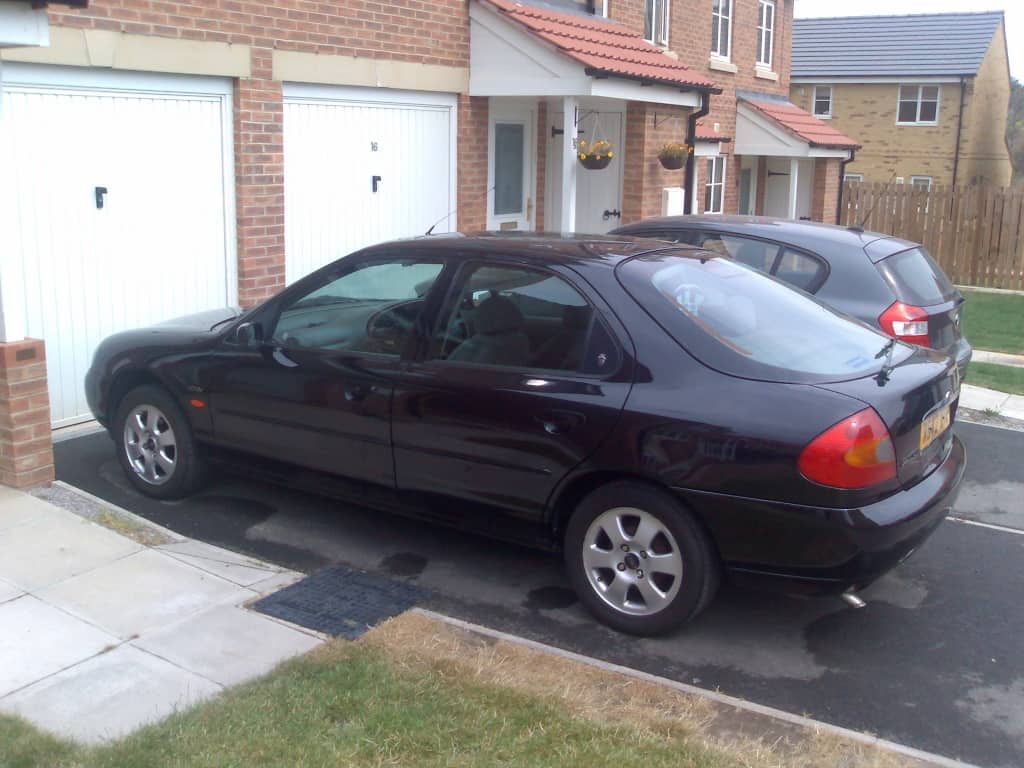 After running the Lancia for 3 years, I just wanted something cheap and disposable. I ended up selling my Lancia on eBay, and my next two cars were purchased the same way! They were almost the same, apart from colour, spec and a year in registration. The purple Mondeo was actually a really nice car to drive, but after just less than 12 months of completely problem free motoring, the cylinder head gasket blew and the cost to repair it was more than it had cost me. It was sold to a scrap yard for £25 minus the alloy wheels, which I put on the black replacement. The black one wasn't quite as nice, although it did last a little longer and made it through 1 MOT, but failed spectacularly at the next! They both served a purpose though, and other than some petrol I manage to get almost 3 years of motoring for just over £1000 😀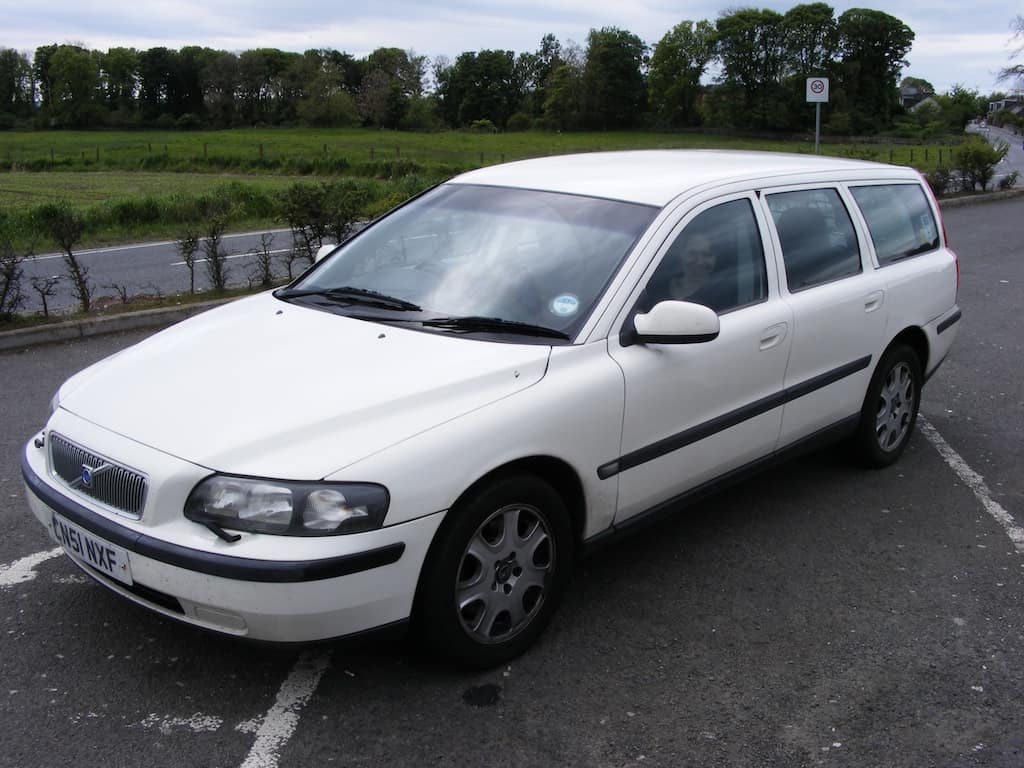 Whilst I'd been driving the Mondeo's, I'd been looking at ex-police Volvos so when it was time to look for another car I knew exactly what I wanted and where to look. The Volvo V70 T5 was probably my favourite car, and over the next 4 years I did over 80,000 miles in it. For a big estate car, it was lightning quick, and the number of cars that slowed down when they saw one on the motorway was just incredible! It needed quite a lot of things doing to it over that time, but it was relatively cheap (at least in comparison to the Lancia) and it was reliable and a pleasure to drive. You could easily drive 300+ miles without a break and feel reasonably good once you'd reached your destination. In the end, it needed just too much work to get through its MOT, and with a relatively poor 27mpg I thought I'd upgrade to a slightly newer diesel version.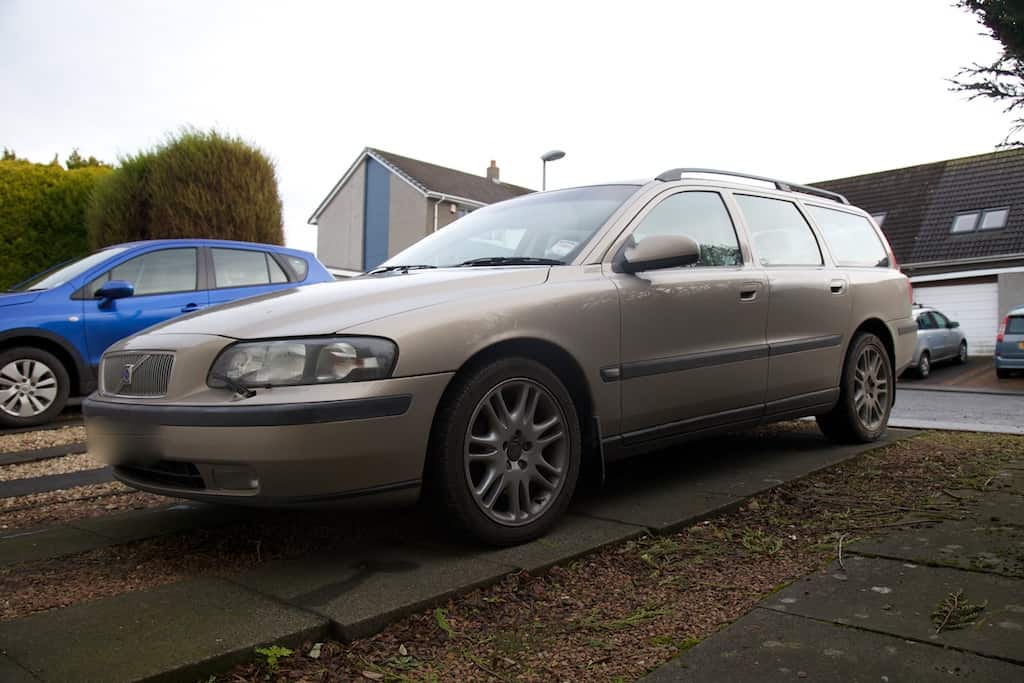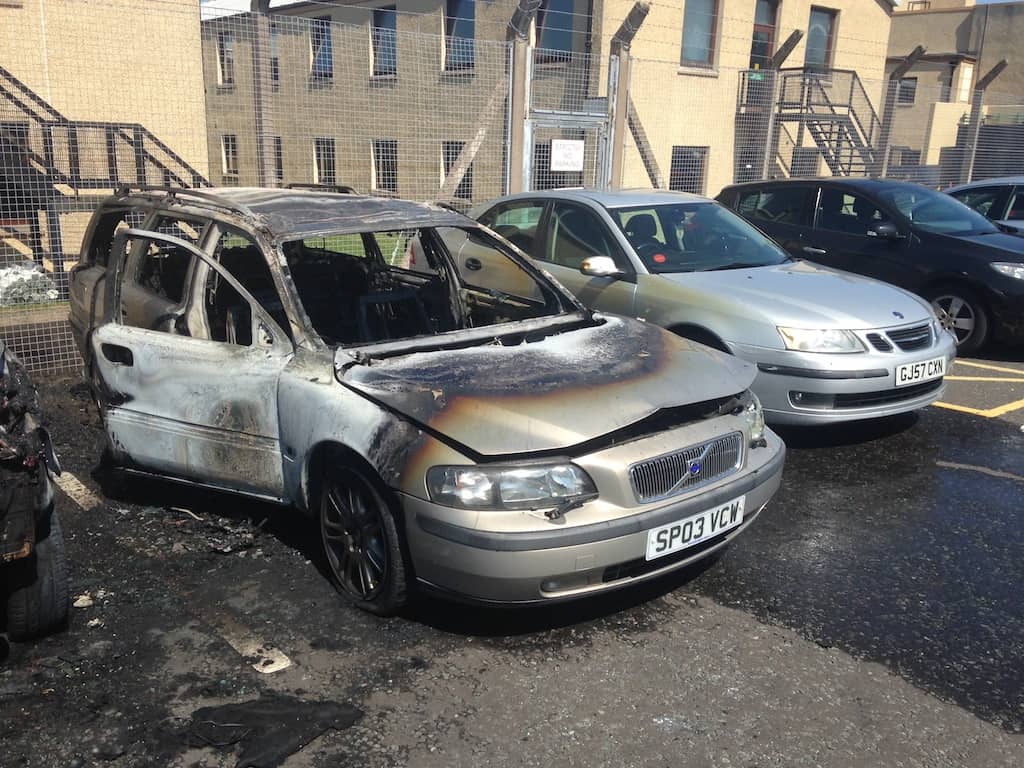 If I'd kept this a little longer, maybe it would have been my favourite car, but as things turned out it only served me for about 7 months before bursting into flames! Unlike the ex-police T5 which had very few creature comforts, the D5 was full of them. Climate and cruise control, electric seats and Bluetooth stereo, auto wiper and lights. The only thing it didn't do was drive itself, but just like the T5 that was the fun bit. It wasn't quite as fast to get going, but managed a reasonable 36mpg, with the same comfort. The colour meant it wasn't mistaken for a police car as often, but I didn't mind. And then one day it just burst into flames! Really! And someone where I worked even caught it on camera and put it on Youtube. Such a considerate bunch of c*********s.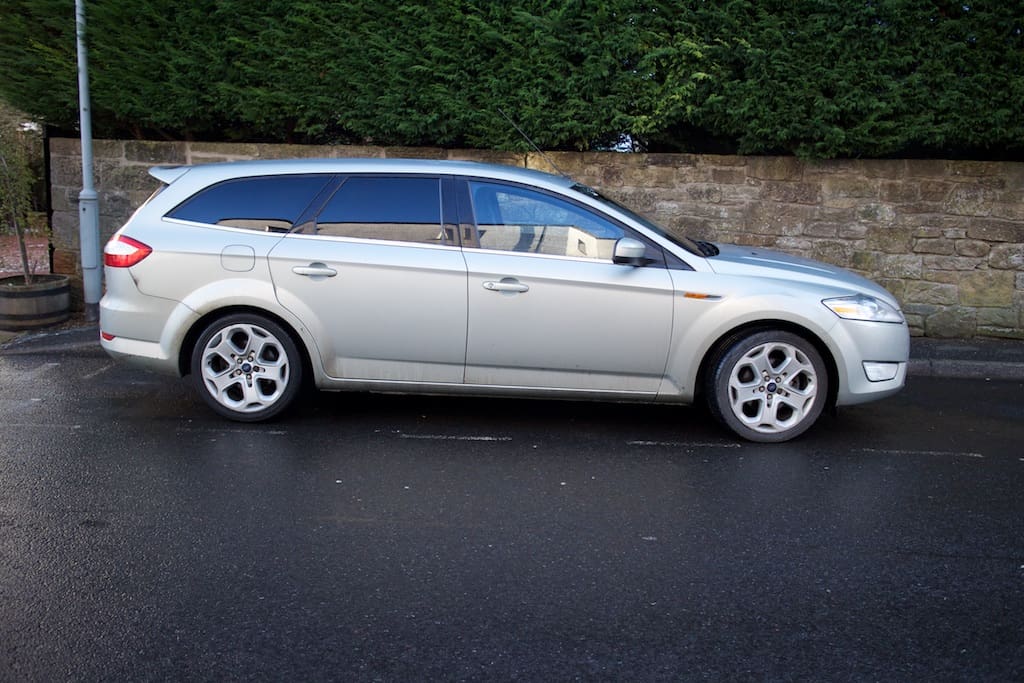 And this is what I'm driving today – another Mondeo. The estate variant had proved really useful for my diving, which is why I got another after the flaming Volvo. This has pretty much the same driving comforts as the Volvo, which for a car 5 years younger is surprising really. Surely it should have more? After 30,000 miles, it's turned out to be a great car, and although it's not as quick or as comfortable as the Volvo's, it a pleasure to drive. 300 miles leaves you feeling a little more tired due to the stiffer ride and seats, but it's cost much less to keep on the road and manages a slightly better mpg, at least on a motorway run where it will average over 40mpg. If it serves me for another 30,000 miles, maybe it will overtake the Volvo and Lancia…
So here's the full list:
1983 Ford Fiesta Popular 950
1994 Rover 214si (old shape)
1996 Rover 214si (new shape)
1996 Rover 416i
1998 Rover 420Gsi
1999 Landrover Freelander 1.8
2000 Landrover Freelander 2.5 V6
2001 Volvo S60 2.0T
1988 Lancia Delta Integrale 8v
1996 Ford Mondeo 2.0 Ghia X
1997 Ford Mondeo 2.0 Ghia
2001 Volvo V70 T5
2003 Volvo V70 D5
2008 Ford Mondeo 2.2 TDCi Titanium X
4 Fords (and 3 Mondeos), 4 Rovers, 3 Volvos, 2 Landrovers and 1 Lancia Delta Integrale. Not that much variety looking back, but I suspect close to about half a million miles of my motoring history!
Looking back, it's surprised me a little that for the last 16 years haven't lived with a car that was less than 6 years old, although most of them were a lot older! On the plus side, I've saved a fortune in depreciation, although feel I must be missing out on some more modern driver comforts. Before that (and excluding the Fiesta), I'd always driven a car that was less than 2 years old and usually came to me with just delivery miles! Who knows, maybe I'll treat myself to something a little newer when the Mondeo comes to the end of its life, although for the time being it's doing me proud and very rarely lets me down.
A bit of a long blog, so I'll finish off now with them all together in a nice gallery below 😀