We've been talking about buying a new electric car ever since my 2008 Ford Mondeo broke down on the way to my Grandma's funeral. Everything worked out in the end, but we spent a long journey home from Washington Service on the back of a flat loader which was the spark for yesterday's Tesla Test Drive
It's taken a while to get around to booking it, and in the meantime, my Mondeo has been carried back to the Ford Dealer in Falkirk where a new Starter Motor and Glow Plugs were fitted for a somewhat eye-watering £650+. To be fair, it's been great since I got it back and starts as soon as you touch the start button, which it wasn't doing for quite sometime before that. Anyway, I'm sure nobody is interested in my Mondeo. What's the Tesla like?
The Tesla test drive was only booked about a week ago, and the process is pretty straight forward. We booked an hour slot and uploaded the relevant license details. I received a call from Tesla last week to confirm and ask a few details about why we'd booked the test drive. They advise arriving 15 minutes before our time slot and were happy that we'd drive the car back to Linlithgow on some A roads and then bring it back via Livingston on the M8.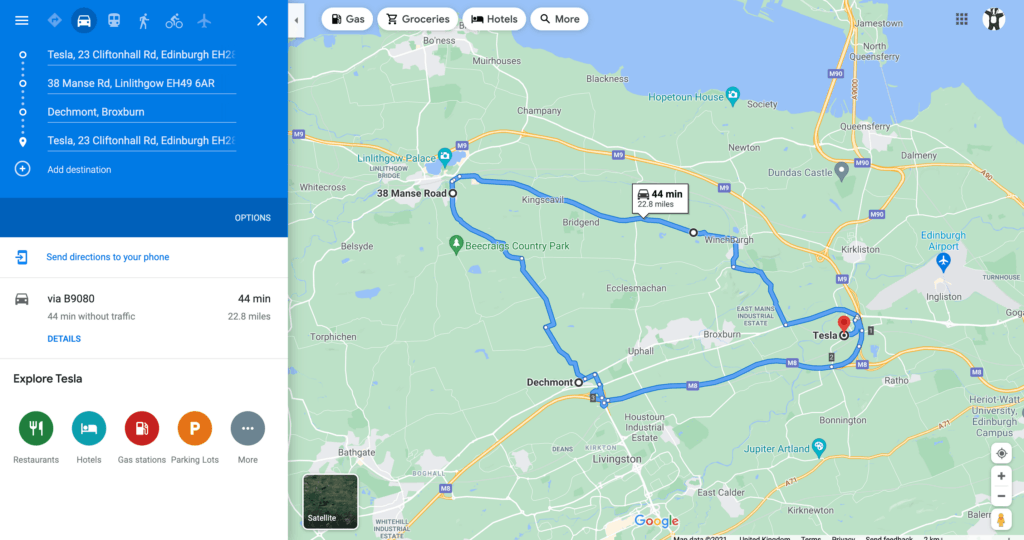 It was a nice route and one we were quite familiar with, so good to compare, while also giving us some experience of the different driving styles. I'm not going to try and recount the entire journey, just some of the highlights I took away from the experience.
Minimalism
The first thing you notice when you get in is how minimalist everything is compared with a traditional car. Sure, you've got a great big 15″ screen in the middle of the dashboard, but that's pretty much it. It feels light and airy with the full glass roof and reassuringly solid, which I'd worried about a little after reading some of the internet reviews. It might not be in the same class as a German car, but it certainly holds its own against a Ford and the Volvo's I've driven most recently. It feels like you've stepped into the future, which I guess you are, but the other electric cars I've seen (which isn't that many) felt like traditional cars and not this different.
The only real negative from the whole drive was probably the driving position, which wasn't quite long enough for 6′ 4″ me. Even with the seat all the way back, I still felt a little too close to the wheel, although I didn't try to adjust that so there might have been some scope to push that back and down a little. There was just enough legroom, but I'll come on to that… By the end of the drive, I'd kind of settled in, to the point that I didn't even mention this when I handed the car back!
Driving
It's sooooo easy! I drive a manual car, and I like driving a manual car. I've driven automatics though, mainly hire cars as I've only owned 1 automatic – a Land Rover Freelander which wasn't a great experience. But while the Tesla only has 2 pedals, it doesn't really drive like an automatic.
You don't really notice it straight away as there's so much other stuff going on, but unlike an automatic car where you put your foot on the brake, select drive, and then the car starts rolling when you take your foot off, the Tesla doesn't do anything when you've done this. It only starts to move when the press the accelerator pedal, and then wants to stop when you take it off.
It was only after about 10-15 minutes of driving that I realised I hadn't actually put my foot on the brake pedal! I think if there's one thing that stands out, it's that. You can drive for miles without ever needing to touch the brake pedal, you have no gears, so basically just a go pedal. There's plenty of room for your redundant foot too, so it feels so relaxing to drive compare with a manual car from 2008.
Performance
We'd been offered a choice of cars, but decided to take out the entry-level rear-wheel-drive option as this was what we'd been looking at on my partners work car scheme. It's the slowest Model 3, but it's really unfair to call any of them slow. I was with my partner and daughter so there were no 0-60 starts, but it picks up and goes at just about any speed. It's instant too. You put some more pressure on the pedal and it goes!
One downside is that the speed and speed limit is displayed very clearly on the screen and my daughter had no problem reading these from the back. 'Daddy, you're breaking the speed limit again' was said almost as many times as 'and I still haven't used the brake!". I think the 0-60 time is quoted as about 5.2 seconds, which is quicker than my old Lancia Delta, and plenty fast enough for anything but the track.
Big Screen
I'm sure we only touched the surface with the electronics, but everything seemed pretty simple to use and incredibly intuitive. I paired up my iPhone so we could have some background music on, and it did this effortlessly. It also sounded pretty good when turned up. Resting the phone in the holder also wirelessly charged it, which was nice!
But the thing that stood out was the awareness of the car and its surroundings. It knows about the other vehicles, signs, lights and people you're passing, or are passing you. It's really cool and nowhere near as distracting as I imagined. The map is really easy to use, and the sat nav guided us home for the motorway part of the journey, along with the intelligent cruise control which slows and speeds up based on the traffic in front of you.
We had a little play with some of the silly toys at the end, just because I'd told my daughter about the emissions (fart) mode, which was enough of a selling point on its own for a 9-year old!
Verdict
I was impressed, really impressed. I was expecting to like it, but not that much. It really was like stepping into the future into something completely different, which was so easy to drive and plenty fast enough. Will we be getting one? Probably! I've already started making enquiries about an external charging point and done a few more quotes on the Lex website.
We are probably going to go for the Long Range model, simply for the extra ~100 miles which is only going to cost another £30 a month. Although that's £1000 over 3 years, there seems to be a disproportionate benefit, or certainly is when you compare the step up to the Performance model. I can't see any value in the extra BHP that gives, but the range, 4WD and 0-60 down to 4.4 seconds look like a pretty good option. I guess the resale value on the middle-of-the-range model will be better than the base or top-of-the-range models, so better to lease.
We're still unsure about the colour, other than needing to pay to upgrade from the white. I was swinging toward the blue before the test drive, and the car we took out was blue, but I think I'm moving toward the black which hides the black trim, although will probably be a little more difficult to keep clean.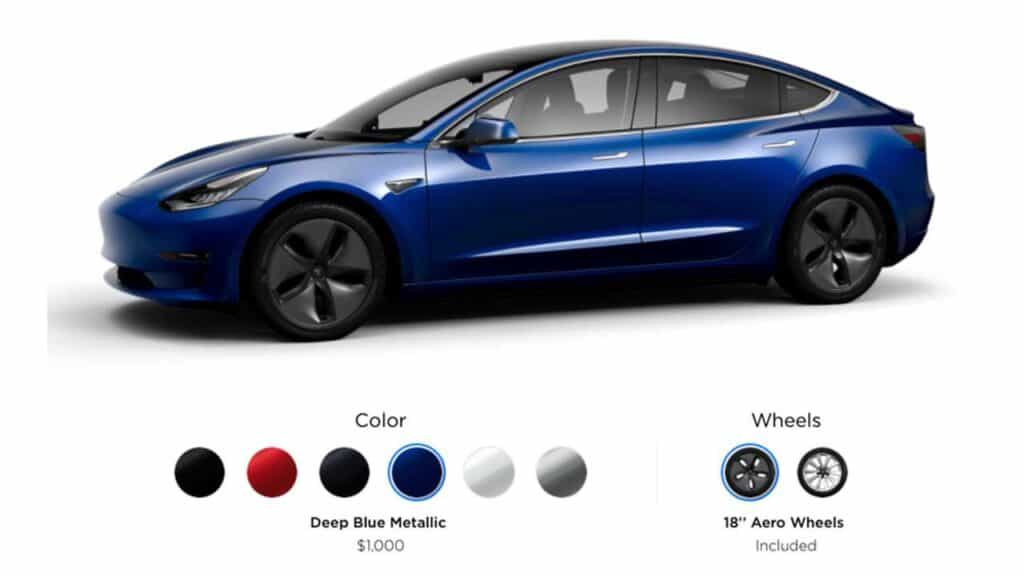 Anyway, that's my Tesla test drive blog. I'm sure to blog some more if we pull the trigger and order one. It will make an interesting addition to my car history, which I blogged about here. Could it turn out to be my favourite car ever?