When I saved this blog as a draft, I was waiting for my V1CE card to arrive and was expecting my V1CE review to be somewhat different. A month on and my experience hasn't lived up to the hype on the website which seduced me into ordering a card.
Before we get into the detail, let me start by making it clear that I still think this is a really, really good idea. Unfortunately, in my case, it has been poorly executed and supported even worse.
When I worked for Unipart at the end of the 90's I went through boxes of business cards, leaving them with every customer I visited. When I set-up my first company back in 2003, I bought a small box of business cards and used very few. That company was eventually wound up in 2011, and a new one created along with some more business cards. I've still got over half a box of them today!
My business is in technology, so an electronic card seems like a great fit. The ability to change and update it a bonus. I'd seen this pop-up in my social media feeds before, but been put off by the price. A special offer and some disposable income from over a year working from home seemed like too good an opportunity to miss.
I ordered a Walnut Bamboo card as I liked the eco-credentials and the colour seemed a good match for my logo. Within a day of placing my order, I was contacted by the V1CE design team and asked to provide my details. I decided to go with the logo and name from my website, so sent across the image file.
The turnaround time was impressive, with a mock returned the same day. I didn't think it looked that good, and the colours clashed rather than complimented. I checked the website again and asked if it would be possible to provide a mock based on the standard Bamboo Eco One card, which is a lighter colour. This looked great, so I confirmed I was happy with this and began the 5-day wait to receive my card.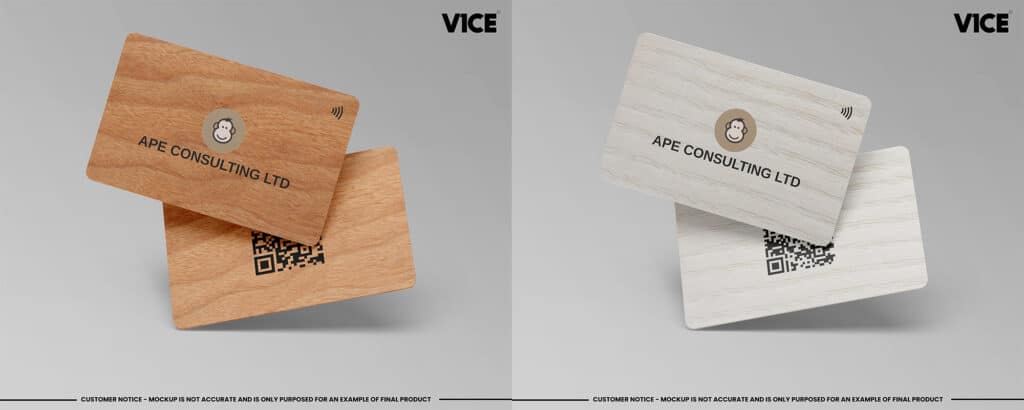 At this point, I was a convert and drafted the title for this blog. I didn't write anything. A good decision based on the downward slide in my customer experience.
My first impression when I opened the package wasn't great, as the printing wasn't very clear with a yellow shadow and the edge of the card was a very different colour. Nowhere as smart as the proof they had provided. I linked up the card though, set up my details and tested on my iPhone 12. This is where the biggest problem arose.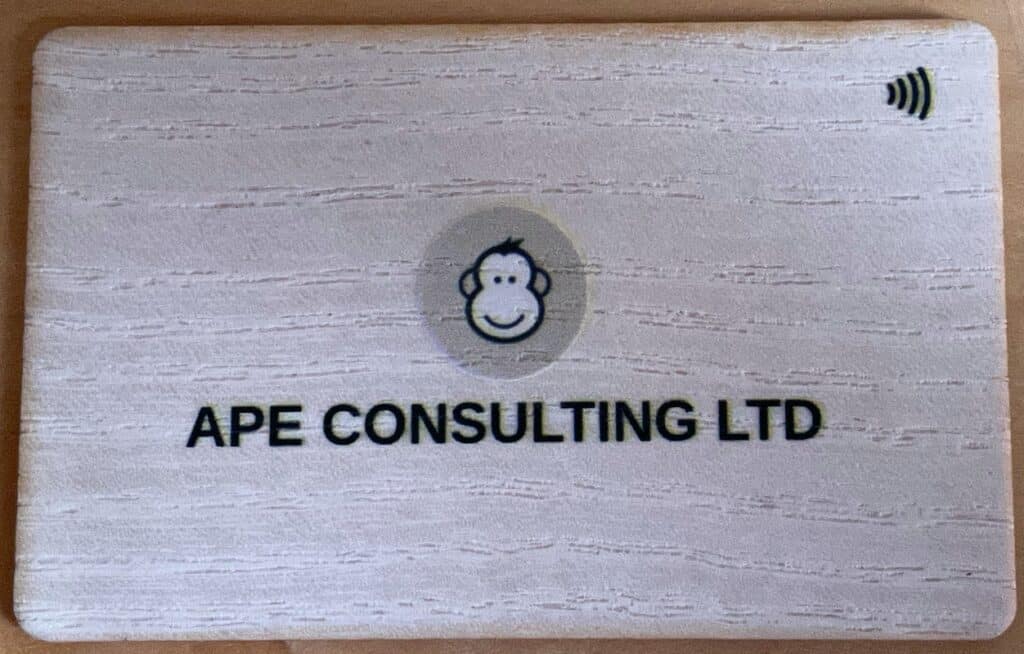 From the videos I'd seen, I expected the details to be displayed every time the V1CE card and phone came together, but I was lucky if I was getting a 50% success rate. I only had iPhones to try it on, and I knew it wouldn't work on my older iPhone 6, although scanning the QR code worked perfectly. I fully expected it to work on my partners newer iPhone X running iOS 14 though, but no, that needs a setting in the Control Panel to be enabled first, and even then it's no better than the 12.
I left it a little while but eventually thought I'd contact V1CE to ask for their advice. They provided some detail about where to hold the card on the phone, which improved things ever so slightly and also explained the situation on the iPhone X. I suggested their compatibility list was somewhat misleading as the extra steps weren't clear. While 9/10 phones might be compatible, most need some settings to be enabled before NFC will work! I also raised my issue with the card printing.
Initially, they felt my card was fine, but when I sent them a side-by-side shot with the proof and card, they agreed to reprint it. They did ask that the old card was returned to them or destroyed, which was fine. I took the destruction option as I thought that would help me understand how robust the card was and how much bending it could take. More than I imagined, which was good.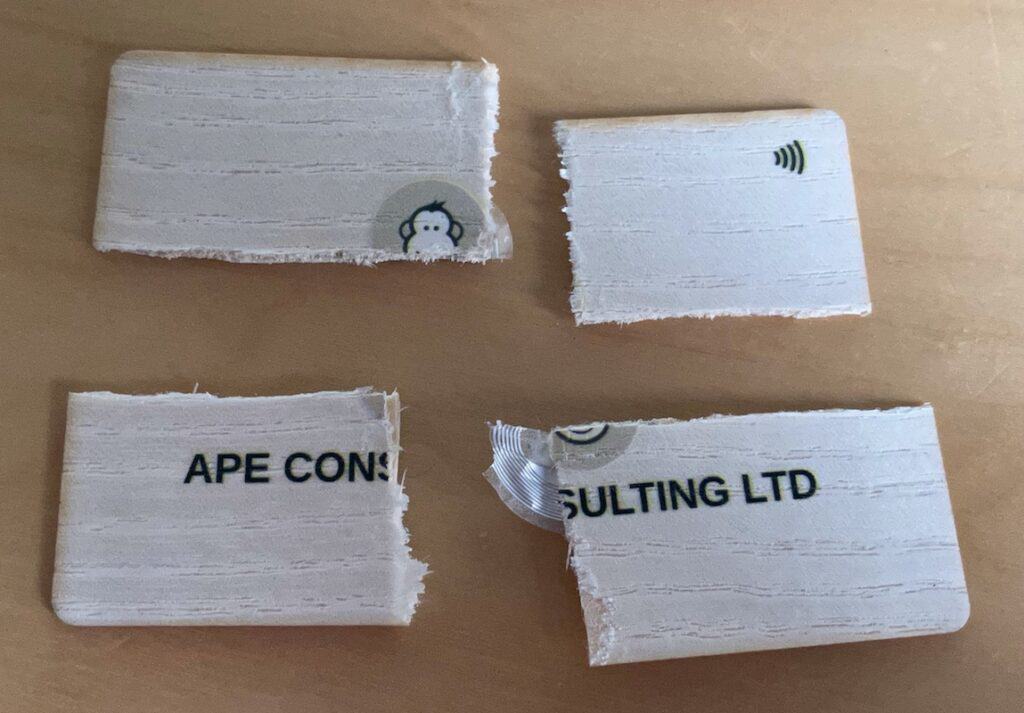 I was again feeling reasonable positive about things, and patiently waited for my 'new card to (should) be with me (you) soon' as per my email from their Onboarding team. The original card had only taken 6 working days, which included the design processes so I'd expected the reprint to take no longer.
6 working days later I was still waiting, so e-mailed their onboarding team for an update. Unlike the previous communication which had all been pretty responsive, I'd not received a reply after 24 hours so visited the website and reached out uisng their web chat service.
The response I received was there was completely unsatisfactory, and I was left still not knowing when my replacement card might arrive. After some further thought that evening, I decided my V1CE journey was done, so e-mailed the onboarding team asking that the reprinted card not be sent, but a refund issued instead. It wasn't the outcoming I was hoping for, but I had completely lost faith in their ability to provide support for the product.
To my surprise, I received an almost immediate response, apologising for the delay and providing some explanation for the breakdown in communication. I responded to say that had that been their response to my previous e-mail I might have accepted this, but given the lack of response and my web chat experience, I was simply looking for a refund.
I received confirmation this has been processed within a few minutes of my reply and a further reply offering another apology and confirmation that as a gesture of goodwill the reprinted card will still be sent. I am updating this part of the blog shortly after these e-mail exchanges.
These last few paragraphs are being written 8 days later. The replacement card did arrive a few days ago and the printing looks much better. The card still suffers from the colour difference around the edge, but they had told me to expect this. It also works significantly better than the previous one and is probably recognised by my iPhone 12 8 or 9 time out of 10. Had this been the case with the original card, I would have kept it and accepted the substandard printing.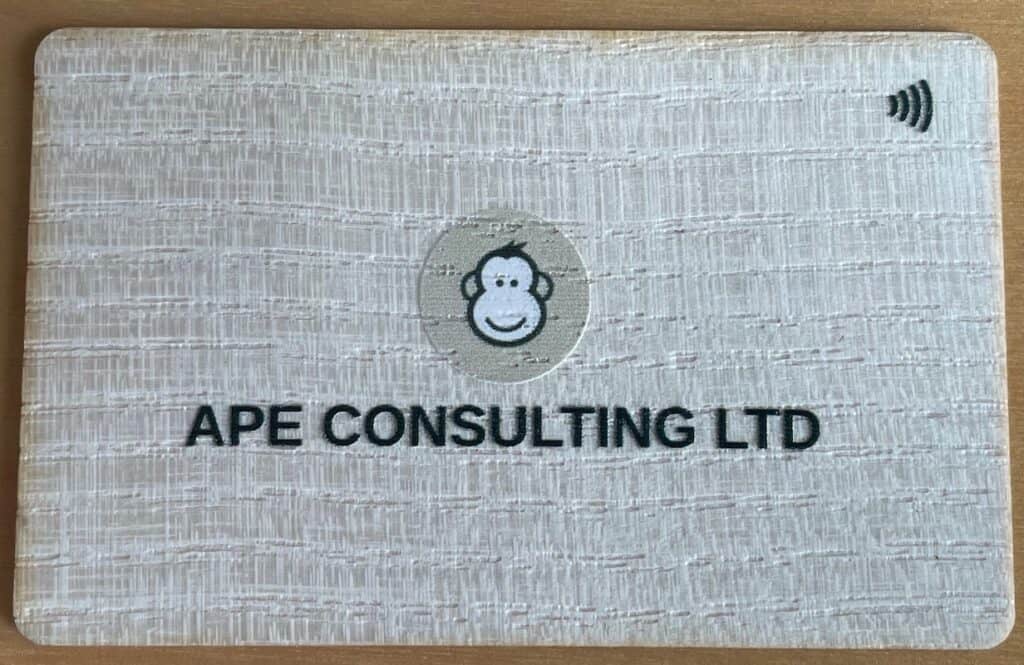 I hadn't received the refund promised, so followed up with a further e-mail. I received a response within a few hours and the refund had then appeared on my Paypal account a few hours after that.
The whole process has just reminded me how important customer experience is when buying a product. V1CE really messed this one up, and even though I have the refund I'd requested and a card which looks and works better, I still feel disappointed. Perhaps when the world returns to some kind of normal and I get to use the card this experience might change.
I've not really got into the V1CE app in this blog, but I found it easy enough to set up my contact details and link to my website, but of which can be clicked from the NFC scan. They're beta testing a new version, which is supposed to be more user friendly and allow for more functionality in the future, like recording who you gave your contact details to.
I mentioned my first ever business card at the beginning of the overly long blog. Although I'd done a few part-time and temporary jobs beforehand, Unipart was my first 'real' job. Looking back it was probably one of the best companies I could have worked for, and their approach to customer service lives with me today. The customer was always right at Unipart, even when they were wrong. The famous slogan at the time I worked there was 'The answer is Yes, now what's the question?'
We live in a world where that approach is even more important, with so much of our lives being online. There are still a lot of companies that could learn a few things from the Unipart Way, something I learned over 20 years ago.