You've probably never heard of Luno, and to be honest I wish I hadn't! If you're thinking about buying any cryptocurrency, looks elsewhere and save yourself a horrendous customer service experience.
It started innocently with this promotional flyer, which I think came with a delivery of a football shirt I'd ordered online. It turned out to be quite a lucky shirt with England making it all the way to the Euro 2020 (in 21) final, although just falling short against Italy in a penalty shootout.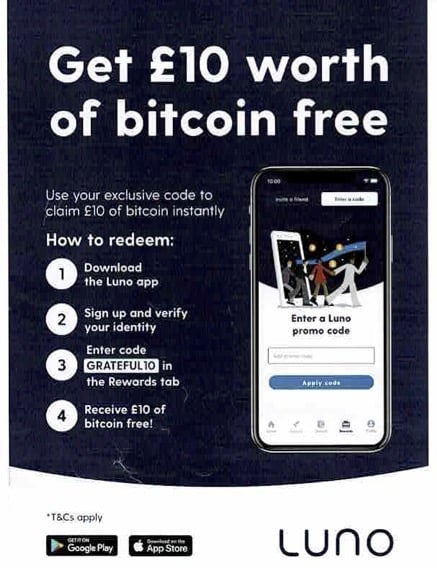 I've dabbled with cryptocurrency through my Revolut bank account and have a very small crypto-wallet with about 4-5 different crypto-currencies. It's no more than a few hundred pounds as the whole thing is far too volatile for me!
But back to Luno. I was a little hesitant, to begin with, and after an initial glance at the website put the flyer I'd received in my 'to do' pile which could have (and I wish had) ended up in the recycling bin. Instead, within the next few days, I'd looked again and signed up for an account. At this point, I tried to apply the reward GRATEFUl10. It didn't work, so I wrongly assumed you needed to purchase the qualifying cryptocurrency before the reward code as there was very little information on the website. No, that doesn't work either so I thought I'd try their customer support, which from my experience you won't be grateful for.
To be fair, the first experience via Live Chat wasn't that bad, other than the issue not being resolved and instead of being told I would receive an e-mail later in the day. It was acknowledged that the offer was valid and should have worked when I created my account.
Their response is below:
It seems you have entered the promotional code after you have bought the bitcoin. With promotions such as this new customers may only redeem one Invite Code when making their first transaction after signing up with Luno. To be eligible for the Reward, the new customer must not have made any prior transactions using Luno, must deposit local currency.

However, keep your eyes peeled for future promotions that will be released. 
So apparently my fault? I contacted the Live Chat service again and had pretty much an identical experience with my issue needing to be passed to a 'team' to investigate. I thought I'd reply to their e-mail suggesting how this should/could have been easily resolved:
Shall I tell you how this customer experience should have gone?

Me: Hello.  I've tried to apply the GRATEFUL10 promotion but it hasn't worked.  Can you help?

You:  Of course, can you tell me what you tried?

Me: Yes.  I tried to enter the reward code before buying the Bitcoin but it didn't seem to work. I also tried afterward and it still hasn't been applied.

You:  Ok, give me a minute to look into that (1 minute later)

You:  I can see you have only just created the account and are a new customer, so welcome!  I have applied the GRATEFUL10 promotion to your account which you should be able to see now?

Me:  Yes, I can see that has been applied

You:  Great!  Is there anything else I can help you with today?

Me:  No, that's all.  Thanks for your help and resolving this so quickly.

You:  You're welcome, and I hope you enjoy being a Luno customer.  Have a great day…

5-10 minutes at most resulting in a happy customer who is very likely to discuss this with friends and family and maybe even refer one or two.  Result!
I'd added that I expected a response before the end of the day, and if this was unsatisfactory would be disputing the transaction with my bank and raising a formal complaint. After the following response, that's exactly what I have done this morning:
Thanks so much for your email.

I am sorry to hear that you have had a bad experience with our customer service.

Kindly note that we will indeed note the feedback you have provided. We value your opinion and will take it into consideration as we continue to improve our offering.

If you have any further questions, do not hesitate to reach out to us.
Funnily, this last e-mail was sent from their Customer Success Team! Priceless.
I raised a chargeback request with Revolut which disappointingly they rejected. I didn't have the energy to progress with them, so went back into my Luno wallet. A positive shift in Bitcoin meant my balance was back above £100, so I immediately withdrew this leaving a 'profit' of 79p.
I then contacted Luno to request my account be closed and all personal data held about me be removed from their systems. My experience has given me no faith they can honour any of their other terms and conditions, such as keeping my data safe.
I've had several e-mails back and forth with their legal department in South Africa (I wonder why they are based there?) and other than providing me with all of the details they hold about my account, they are adamant they have to keep it all for 5 years.
I have raised a complaint with the Information Commissioners Office, so will now wait and see how this plays out. Regardless of my outcome, I can only recommend you stay well clear of Luno unless you don't mind a horrendous customer service experience, and a huge waste of time trying to resolve.
I really do wish that flyer had ended up in the shredder the minute I opened my football shirt package.