This was one of the 'lost blogs' I wrote about here, so I'm not quite as motivated the second time! The idea was born from a Youtube video, and it got me thinking I might start using a supercharged Firestick more and my Apple TV 4 less, although only time will tell. It could be a great investment at ∼£40 or a complete waste of money!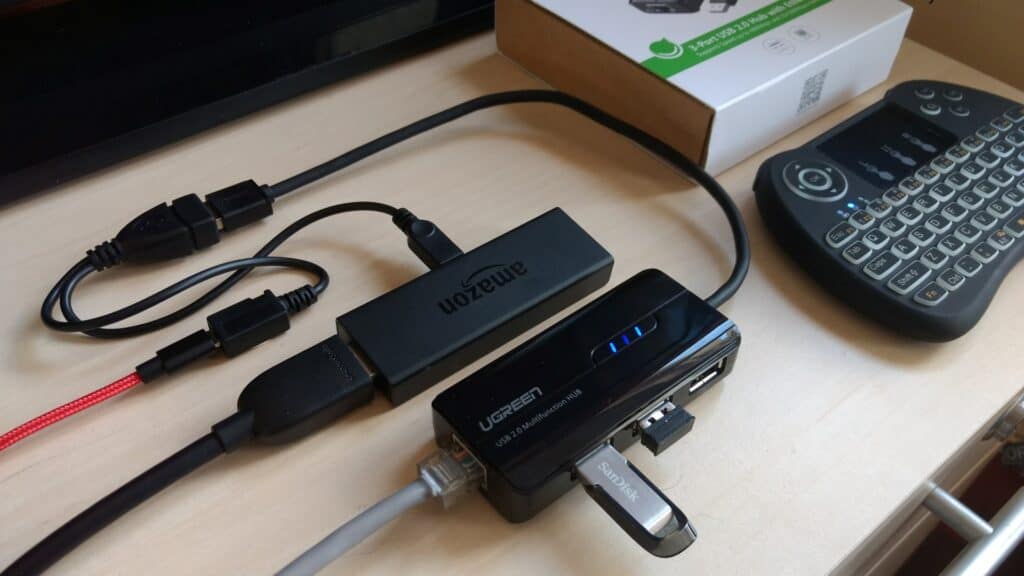 The picture isn't mine by the way, but in looking for a few pictures of the things I'd bought, I came across this which, is an almost identical setup.
Let's start with the Amazon Firestick 4K, which I already owned and bought on an Amazon Prime day (I think for the bargain price of £24.99) to replace an old 1st Gen Firestick. I rarely used that as it was painfully slow compared with my Apple TV 4, but the 4K version is a much better performer. I think the main reason we use the Apple TV is habit and the fact it also has a Prime Video app so there's no real need to use the Firestick. The plan is to try and live with the supercharged Firestick for a little while and see if it's a better streaming device.
So the Firestick is in the middle of the picture above (with an upside-down Amazon logo and) with an HDMI lead coming out of the bottom-left and a Micro-B USB cable coming out of the top-right. This cable is a USB 2.0 Micro-B host OTG (On The Go) cable and connects the Micro-B USB power connector (the red one in the picture) to the Firestick while adding a USB-A connector, which is recognised by the Firestick and starts to add the functionality you'd find in a standard Android TV box.
The other black box (with the blue LEDs) is a UGREEN USB 3.0 Hub Ethernet Adapter and connects to the OTG cables USB-A port and convert that to 3x USB-A ports and a Gigabit Ethernet port, which the grey network cable is plugged into above. To be honest, I already had an Amazon Ethernet Adapter in use with my Firestick which is a big improvement over Wi-Fi. The Amazon one is only 100Mbit and doesn't have any USB connectors so given my time again I'd just buy the UGREEN one and the OTG cable.
The large USB dongle plugged into the UGREEN adapter is a SanDisk Ultra Flair 128 GB USB 3.0 Flash Drive, or at least the one I'm using is and it looks very similar. USB 3.0 is probably overkill as the port is only 2.0, but I had one of these lying around that I'd been playing with to boot my Raspberry Pi without a MicroSD card, so it was easy to repurpose here.
The final component is a 2.4GHz keyboard dongle, and this is definitely not the same one I bought, although it looks similar and could be a different Rii model. I was already using a Rii i8 on my Jnr Trak project, and it works really well so just bought a slightly more up to date version of that, the Rii i8s Plus.
I did have a false start when I tried to connect all this up the first time which almost resulted in everything going back to Amazon, but I went on to test them individually and everything seem to work, so when I set-up again, it was easy to spot the slightly dodgy USB-A connector on the OTG cable, which doesn't like been fully inserted. It's all connected now behind my TV, which doesn't move much so I'm hoping it will keep running without needing a replacement cable.
The last stage is actually setting up the Firestick 4K software and configuration to make use of the extra storage, network port and keyboard. I'm not going to cover them here as they are done much better elsewhere. I found this blog quite helpful setting up the extra storage and here's the link to the original YouTube video which started things. The host might not be to everybody's taste, but I find him pretty funny – ding dangly doo – and he covers off all of the settings and software that you'll need.
I'll let you know how I get on in a few months…
.