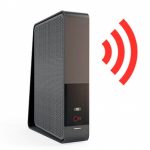 You might remember earlier this year when I got a surprise call from Virgin Media and a new TiVo v6 box, which I blogged about here.  Well, this time it was my turn to call Virgin and try to negotiate a better price for my Broadband, TV, and Telephone services.  The result was a saving of £10 and a new Superhub 3 which will bump up my broadband speed from 200 to 300Mbps 😀
The call itself was another pleasant one, and I ended up speaking with Chris from a call centre in South Wales.  He told me my contract had expired back in June, but there was a still a loyalty discount of £4 showing on my account until the end of December.  He confirmed the package I was using (Vivid 200 Broadband, Full House TV and Total Weekend Telephone) and that he could do the same deal, but with Vivid 300 Broadband for £73 and extend the loyalty discount.  I explained I was hoping to get it all below £70 a month, which he took away and came back to say that could be done.  He also told me I'd need a new broadband modem – a Superhub 3 – to get the 300Mbps speeds, and that incurs typically a £20 installation fee, but he'd credit that to my account too.  All very simple, and other than telling me about some of the terms and conditions (I'm signed up to another 12 month contract, although can change it at any time, and don't need to wait for 12 months) and confirmed all the documents he was e-mailing and the contact start and end dates.  All good, with a faster service and a lower price!
The Superhub 3 arrived earlier today, and I remember when I installed the TiVo V6 box that I'd read about some people having issues with this when using in Modem Mode.  My current Superhub 2 is configured in Modem Mode, as my DHCP routing and WiFi access are handled by an Apple AirPort Extreme.  I would be configuring this in the same way, but some googling suggested the latest firmware doesn't have this issue.  It wasn't definitive, but I won't be returning the old one until I'm happy this one works OK.  Not quite as exciting as the TiVo box opening, but a few photographs below:
I should never be surprised when the setup doesn't work exactly as the documentation describes, but it didn't take too much work to get it up and running.  When you first connect to the Superhub 3 and enter the settings password, it recommends changing the password, so I entered a new, more secure password.  While the device then reset, it didn't want to login using the new password, but the old one still worked.  On the second attempt, I skipped this step, and just went to the dashboard to enable modem mode.  Another restart and my AirPort Extreme came back online along with everything else connected to it.  I still wanted to change the default password, but couldn't connect back to the IP of the Superhub 3.  Another quick google, and it seems that the IP address changes from http://192.168.0.1 to http:/192.168.100.1 when you've enabled modem mode.  This worked and allowed me to change the password.
So all setup.  Now for a quick speed test…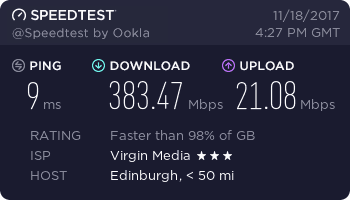 Happy Days 😀  I was getting about 220Mbps down and about 12 Mbps up before, so quite a bump.  I think I'm more pleased with the ~40% increase in upload speed, which should make it much better for my friends and family when they are accessing my emby server.  The extra download speed will be helpful, but I never really thought the 200Mbps service I had before slowed me down too much.  Anyway, other good Virgin experience.  They really must be trying hard on their customer service in 2017.  Long may it continue…