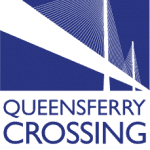 You might have seen a previous blog with pictures of the iconic bridges crossing the Forth at Queensferry, but if you haven't we live pretty close by and whilst we don't use the bridges that often, we get to see them from time to time.  Over the past 18 months construction has been underway on a new bridge, which opened to traffic on Wednesday last week (30th August).  It was closed 2 days later to allow 50,000 people a 'once in a lifetime opportunity' to walk across it, and I was one of those lucky people!
A couple of months back a ballot was held, and over 220,000 people applied.  Only 50,000 were selected, and I was lucky enough to get 3 places.  So today, my partner, daughter and I got to walk across The Queensferry Crossing.  It's quite special, as unlike the Forth Road Bridge which has a foot path on both sides allowing pedestrians and cyclists to cross, the new bridge is only for road traffic as it is effectively an extension of the M9 Motorway from Edinburgh to Perth.  It's being officially opened by HM Queen Elizabeth II today, with some further access to the local community and schools on Tuesday and Wednesday, before opening up to traffic again on Thursday 7th September, at which point no members of the public should ever be walking on the bridge again.
You might be wondering why it was opened to traffic for a few days last week, and I did wonder exactly the same thing myself?  I've been told it was to test the structure before thousands of people walked across, but it still didn't make that much sense to me.  That said, it also didn't cause me any of the traffic chaos and 1-2 hour queues encountered by the poor folk who did actually need to use it for a couple of days last week.  I think it also gave the construction teams time to make some changes to the road layouts, although again these would have only been for a few days, as traffic has been diverted back over the old bridge whilst the opening festivities are going on.
Anyway, it was a 1.7-mile walk across from one side to the other, although our experience started at the Ingleston Park & Ride by Edinburgh Airport!  Busses were provided to take people to the north side of the bridge, and then you walked across to the south where a bus was waiting to take you back.  All very well organised and it didn't feel overly busy or rushed at any point.  My partner and daughter were doing it for charity, as I wasn't expecting to be able to go along until I hurt my foot last Tuesday and had to cancel a trip to Budapest for a friends Stag weekend 🙁  Whilst I was still struggling to walk on Friday, I decided I couldn't miss this opportunity of a lifetime so managed to hobble my way across yesterday.  Didn't manage to get the greatest pictures of the new bridge, which I'm sure are to be taken from either the old bridge or local shores, but some interesting shots that I won't get to take again of the new bridge structures and views across to the old road and older rail bridges.