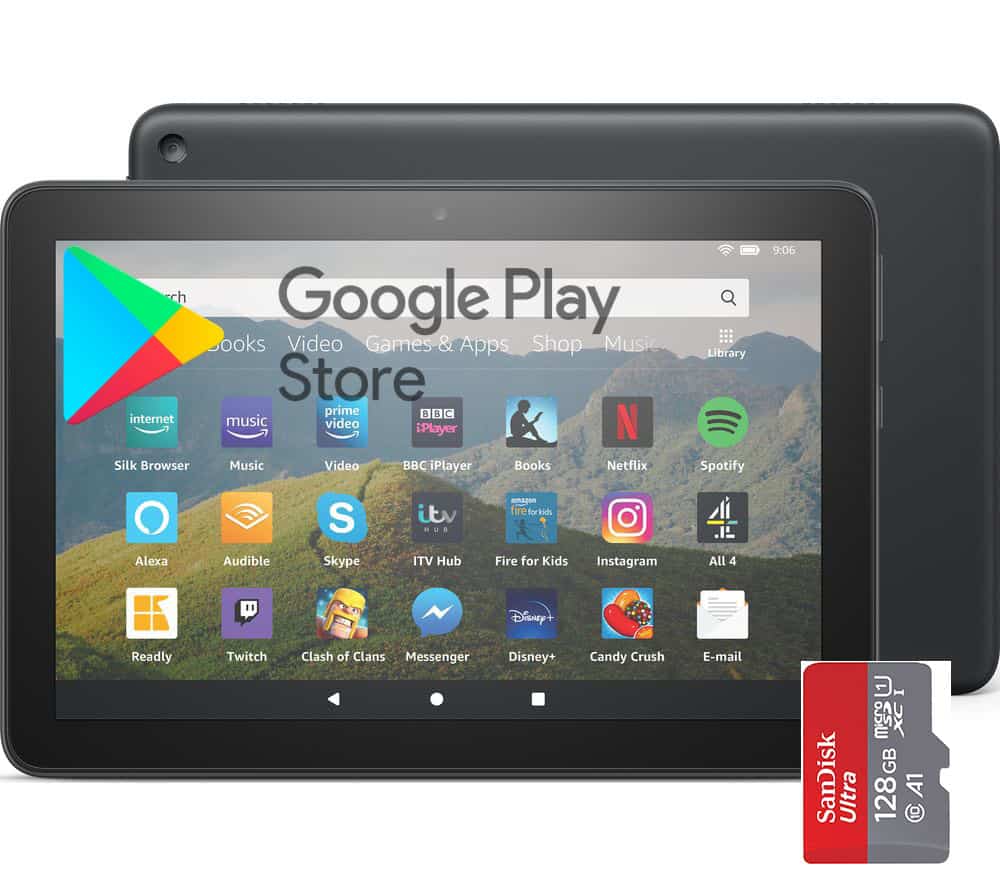 Ok, who didn't buy something they didn't really need on Amazon Prime Day? Just me? Surely not! But for just £44.99 I got an Amazon Fire HD 8 (10 Gen) and with a Mastercard promotion a 128GB micro SD card to bump up the storage for £8.45. One of the first things I tried to do was install an emby client, which proved to be much more difficult than I'd imagined, at least until I discovered how to Install the Google Play Store on it.
Most of my App Store experience is from using iDevices, so I'd kind of assumed that all other App Stores were of a similar nature. Most of the time I can download an app for my iPhone and it will work on my iPad. We're not too far away from that being the case with macOS too.
I've used the Amazon App Store on my Fire TV device but has assumed that was similar in that an app I could download on the Android-powered Fire TV would also work on the Android-powered Fire HD. I was wrong! It turns out there are different Amazon App Stores for different types of Amazon device, for example, a TV App Store and a Mobile App Store. There might be others I'm yet to discover. Perhaps an Echo App Store?
I'd also assumed that the Amazon App Store would have pretty much the same apps as the Google Play Store, as they were all running a flavour of Android, and developers would want their apps to be available for both. Wrong again! There are lots of apps available in the Google Play Store that aren't in the Amazon Appstore, many of which I use regularly on my iDevices.
Luckily, it's pretty easy to install the Google Play Store on the Fire HD devices. This site describes the process very well and had links to the various APK's (Android Packages) that you will need to download and install. You can probably download them directly on the Fire HD, but I was investigating this on another device so downloaded and stored on my Nextcloud server. I then accessed this on the Fire HD to install the APKs.
And after a reboot, you can log in to the Google Play Store. In there I managed to find apps for emby, Nextcloud, Home Assistant and Chrome which start to make the Fire HD experience a little more 'iPad like'. So far, after less than 24 hours of playing, I'm pretty impressed and for just over £50 even if it was just used as an emby client it would be pretty neat.
I still don't know why emby isn't available in the Amazon Mobile Appstore given it is in the Amazon TV Appstore, although perhaps at some point the 'helpful' people over at the emby forum might get that fixed?
So for anyone seduced by a half-price Amazon device on Prime Day, have a look and see if you can install the Google Play Store on it. For me, it's made a huge difference to my initial experience and I expect it will for you too.