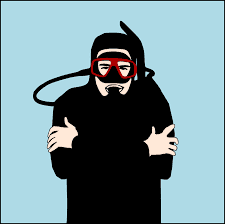 I managed to get a free Sunday when some of the West Lothian Sub Aqua Club were diving, so it was time for my first trip underwater in 2019…
When I first started diving, I didn't tend to mind all the faffing that goes along with UK diving, but the older I get, and the more overseas diving I've done, I can't say I ever really look forward to a UK dive now. That said, the time spent underwater is brilliant, just not so much the effort before and after!
The first job is to make sure my cylinders are full. I had a twin set in the garage full of gas, but that's no fun on a UK shore dive, so I need to get my 2 single tanks filled. Luckily, the club compressor is working again and Geoff kindly agreed to fill them for me on Friday night. All sorted and only £4!
Saturday afternoon I spent about 45-60 minutes getting everything ready in the back of the car. I always like to set up a cylinder ready to dive then I know I haven't forgotten anything important. This was not quite true, however!
I remembered to take my dry suit into the house for the night so the latex seals weren't rock hard and had softened up with a night in a warm house (my garage is really cold!). I got clothes ready, including some spare, along with base layers and my undersuit which keeps me nice and warm underneath the dry suit.
It was an early start, as we're meeting at the McDonalds in Baloch (the other side of Glasgow, so just over an hour away) at 08:00. I didn't sleep too well so was awake before my alarm so had plenty of time to get ready.
I let the dog out and made a coffee, took everything out to the car, stopped for petrol and some food on the way out of Linlithgow, and took it nice steady listening to the new Avril Lavigne album (ok, yes, but it was quite good!)
I'd had another coffee at McDonald's along with a Sausage & Egg McMuffin and a hash brown, and after a quick toilet stop, we're off to Conger Alley along the north-west side of Loch Long. Quite a nice site and easy to get in and out of the water.
I was driving along with more Miss Lavigne when I suddenly think I've left my undersuit behind! A quick call home confirms it's still in the bedroom where I'd left it the night before. Bollox!
I still had about 20-minute drive so had time to come up with a plan. I'd just dive in my clothes under the dry suit and hope I don't get too cold and or wet.
Well, neither happened. After a relatively stress-free kitting up I was in the water with Rab who I've dived with before. I don't need to worry about him nor he me! I wasn't expecting it to be warm, but I'd hope to stay warm for longer than 10 minutes! I battled on as I didn't want to bin the dive too early for Rab, and I'd probably only do the one as I didn't fancy another cold and possibly wet dive.
I lasted about 35 minutes before it was time to give the thumb to Rab and rub my body to try and tell him I was cold. I'd been cold for about 25 minutes so by now was beyond cold! Getting out I headed straight back to the car and dumped everything in the back.
I was cold and wet down one (my left hand) side and no way would I be able to do another dive. There were 5 others diving so Rab could tag along with them for the 2nd dive, so all good. I got into as many dry clothes as I had, turned up the heating and turned on the heated seat and headed for home.
I wrote this from the bath after finally warming back up, although edited the following day so I expect the tense to be all over the place! I really do love the sensation underwater, getting neutrally buoyant and gently pushing along watching the strange life caught in the beam of my torch. Even on a cold February day, with the right gear it's fun for 30-40 minutes before the cold begins to bite. With the wrong kit, make that 10 minutes and then another 25 trying not to think about it!
It was good to get back in the water though, and I hope to get another UK dive in before heading to Iceland in April where I'm planning on diving at Silfra, where the North American and Eurasian tectonic plates meet. It's been a bucket list dive for a while and will be even colder although the water will be somewhat clearer and we'll probably only do 20 -25 minutes at a time.
Anyway, better get out of the bath before I turn into a prune 😀